Release Date: June 15, 2012
Expiration Date: June 15, 2013
EDUCATIONAL OVERVIEW
Vaccines have been highly effective in eliminating or significantly reducing the occurrence of many once-common diseases. However, barriers to immunization, particularly in older adults, have played a significant factor in the rising incidence of some vaccine-preventable diseases. Cost, reduced accessibility to vaccines, and complex or changing schedules for adult immunization have contributed to low immunization rates in at-risk adult populations. This can lead to significant clinical consequences and economic impacts due to vaccine-preventable diseases and related complications.
Addressing Barriers to Adult Immunization:
The Role of Primary Care Providers
Primary care providers (PCPs) play an important role in administering recommended vaccines to their patients. However, PCPs must not only be knowledgeable about
vaccines, they must incorporate systems in their offices to record, remind, and recall patients for vaccinations. They must also clearly communicate vaccine benefits and risks while understanding those factors that affect a patient's acceptance and perception of vaccines.
To improve overall adult immunization rates, it is critical to expand PCP knowledge and competence regarding vaccine-preventable diseases and recommended vaccines. Building healthcare provider awareness of current immunization guidelines as well as the benefits of immunization is critical to improving vaccination rates. PCPs can lead the way in these efforts by educating their patients about vaccine-preventable diseases and taking proactive measures within their clinical practice to ensure patients are vaccinated when indicated.
TARGET AUDIENCE
This educational activity is designed for PCPs, including family physicians, internists, nurse practitioners, physician assistants, nurses, and other allied healthcare practitioners who are at the forefront of managing adults at risk for vaccine-preventable diseases.
LEARNING OBJECTIVES
After reviewing all modules of this activity, healthcare professionals will be able to:
Recognize the clinical consequences of vaccine-preventable diseases in adults
Identify adult patients who will benefit from vaccination
Educate patients about the benefits of vaccines
Reduce and remove system- and patient-related barriers to vaccination
EDUCATIONAL FORMAT
This enduring material is based on a series of live workshops presented at selected American Academy of Family Physicians (AAFP) state chapter meetings.
Through evidence-based presentations and faculty discussions, this 10-module online activity, provides evidence supporting the importance of adult vaccination and describes the current recommendations. It also addresses the challenges PCPs may face in promoting adult vaccination and identifies strategies that can be implemented in clinical practice to assist their immunization efforts.
This online activity has 10 modules.
All 10 modules must be completed to receive credit:
---
MODULE 1: Pneumococcal Disease
---
MODULE 2: Influenza
---
MODULE 3: Pertussis
---
MODULE 4: Herpes Zoster
---
MODULE 5: Don't Neglect the Other Adult Vaccines

---
MODULE 6: Adult Immunization: Role of the Clinician

---
MODULE 7: The Medical Home: Utilizing a Multidisciplinary Approach to Adult Immunization

---
MODULE 8: Quality Improvement and Meeting the Managed Care Requirements in Adult Immunization

---
MODULE 9: Utilizing a Combination of Interventions in Improving Adult Immunization

---
MODULE 10: Role of the Pharmacist in Adult Immunization

---
Note:
1. This enduring material is based on a series of live workshops presented between December 2011-April 2012.
2. If you have received credit for attending the live workshop by the same name, you are not eligible to receive credit for this enduring material.
3. Note that The Task Force on Community Preventive Services recommendations presented in Module 9 have been updated since this activity was released. Current recommendations on combination and standalone interventions are available at:
www.thecommunityguide.org/vaccines/universally/index.html.
AUDIENCE RESPONSE RESULTS
During the live meetings held between December 2011-April 2012, participants were asked a series of questions related to vaccines and vaccine administration. Review their responses below to see how your responses compare.
1. How many patients do you see each week?


2. On average how many adult patients do you
administer a vaccine to each week?


3. Which of the following vaccines is most
frequently administered in your practice?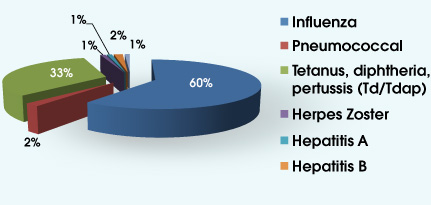 4. Approximately what percentage of your patients
refuse vaccines that you recommend?


FACULTY


Thomas M. File, Jr., MD, MS, MACP, FIDSA, FCCP
Chair, Division of Infectious Disease
Summa Health System
Akron, OH
Professor, Internal Medicine
Master Teacher; Chair, Infectious Disease Section
Northeast Ohio Medical University
Rootstown, OH



Debra A. Goff, PharmD, FCCP
Clinical Associate Professor
Infectious Disease Specialist
The Ohio State University Medical Center
Columbus, OH



Michael D. Hogue, PharmD, FAPhA
Associate Professor and Chair
Department of Pharmacy Practice
Samford University McWhorter School of Pharmacy
Birmingham, AL



Robert H. Hopkins, Jr., MD, FACP, FAAP
Professor of Internal Medicine and Pediatrics
University of Arkansas for Medical Sciences,
College of Medicine
Program Director, Combined Internal Medicine-
Pediatrics Residency
Practice Director, General Internal Medicine Clinics
Little Rock, AR



Patrick Joseph, MD, FIDSA, FSHEA
Associate Clinical Professor of Medicine
University of California, San Francisco
San Francisco, CA



Donald E. Low, MD, FRCPC
Microbiologist-in-Chief
University Health Network/Mount Sinai Hospital
Medical Director, Public Health Laboratories
Ontario Agency for Health Protection and Promotion
Toronto, Ontario



George G. Zhanel, PharmD, PhD
Professor
Medical Microbiology, Faculty of Medicine
University of Manitoba
Coordinator
Antibiotic Resistance Program
Clinical Microbiology, Health Sciences Center
Winnipeg, Canada
---
CE Accreditation
Physicians
This activity has been planned and implemented in accordance with the Essential Areas and Elements and Accreditation Policies of the Accreditation Council for Continuing Medical Education through the joint sponsorship of the National Foundation for Infectious Diseases (NFID) and Vemco MedEd, LLC. The National Foundation for Infectious Diseases is accredited by the Accreditation Council for Continuing Medical Education to provide continuing medical education for physicians.

NFID designates this enduring material for a maximum of 2.0 AMA PRA Category 1 Credits™. Physicians should claim only the credit commensurate with the extent of their participation in the activity.

Method of Participation and Instruction for Credit
There are no fees for participating in or receiving credit for this online educational activity. For information on applicability and acceptance of continuing education credit for this activity, please consult your professional licensing board.

Review the complete CME information including target audience, learning objectives, and disclosures.
Review all of the modules (partial credit will not be issued) and the course materials.
Complete the online Post-Test and Evaluation. Note that you must receive a passing score of at least 80% to receive credit.
A printable or downloadable certificate will be available upon successful completion of the online Post-Test and Evaluation.


For questions, please contact cme@nfid.org.

Disclosures
As an organization accredited by the Accreditation Council for Continuing Medical Education, it is the policy of NFID to ensure balance, independence, objectivity, and scientific rigor in all of its educational activities. All individuals in a position to control the content of the activity have disclosed all relevant financial relationships with the manufacturer(s) of any commercial product(s) and/or provider(s) of commercial services discussed in an educational presentation and/or with any commercial supporters of the activity. Disclosure information is reviewed in advance to manage and resolve any real or perceived conflict of interest that may affect the balance and scientific integrity of an educational presentation.

Faculty
Thomas File, Jr., MD, MS serves as a consultant/advisor to Astellas/Theravance, Cerexa/Forest, DaiichiSankyo, GlaxoSmithKline, Merck & Co., Inc., Nabriva, Pfizer Inc., and Tetraphase and has received grants for clinical research from Cempra, Pfizer Inc., and The Medicines Company.

Debra A. Goff, PharmD serves as a consultant/advisor to Cubist, Forest, Merck & Co., Inc., and Optimer. She serves as speaker for Merck & Co., Inc.


Michael D. Hogue, PharmD serves as a consultant/advisor for Pfizer Inc. and as a speaker for Merck & Co., Inc.


Robert H. Hopkins, Jr., MD has no relevant financial relationships to disclose.


Patrick Joseph, MD has no relevant financial relationships to disclose.

Donald E. Low, MD has no relevant financial relationships to disclose.

George G. Zhanel, PharmD, PhD has received grants for clinical research from Abbott, Achaogen, Affinium, Astellas, AstraZeneca, Cangene, Cubist, Forest/Cerexa, Merck & Co., Inc., and Pfizer Inc.





Planning Committee Members
Len Novick (NFID) owns stock, stock options, or bonds from Cubist, Novavax, Pfizer Inc., and ViroPharma.

Marla Dalton (NFID) has no relevant financial relationships to disclose.

Susan J. Rehm, MD (NFID) serves as an advisor or consultant for Merck & Co., Inc. and Pfizer Inc. and as a speaker for Genentech.

All other employees of NFID and Vemco MedEd have no relevant financial relationships to disclose.

Disclaimer
The opinions expressed in this educational activity are those of the faculty and do not reflect the views of NFID and Vemco MedEd. This educational activity may discuss off-label and/or investigational uses and dosages for therapeutic products/procedures that have not been approved by the United States Food and Drug Administration (FDA). NFID and Vemco MedEd do not recommend the use of any product/procedure outside of the labeled indications. A qualified healthcare professional should be consulted before using any therapeutic product/procedure discussed. Clinicians should verify all information and data before treating patients or employing any therapies described in this continuing education activity. Please refer to the prescribing information for each product/procedure for approved indication, contraindications, and warnings.

Hardware/Software Requirements
Web Browser
Microsoft Internet Explorer, Mozilla Firefox, Google Chrome, and/or Safari
Note: Please disable any "pop-up blocker" features.

Software/Hardware
Adobe® Reader version 7 or above to view PDF files (If you do not have Adobe® Reader, you can download it for free at Adobe.com)
Adobe® Flash Player version 10 or above to view multimedia content (If you do
not have Adobe Flash Player, you can download it for free at Adobe.com)

Connection Speed
Cable, DSL, or better of at least 300 kbps

System Check
Please e-mail any questions or concerns to info@vemcomeded.com.

Copyright Statement
Copyright © 2012 Vemco MedEd, LLC and the National Foundation for Infectious Diseases.

Privacy Policy
http://www.vemcomeded.com/privacy.asp

Sponsorship
This activity is jointly sponsored by



Commercial Support

This activity is supported by an educational grant to the National Foundation for Infectious Diseases from Merck & Co., Inc.