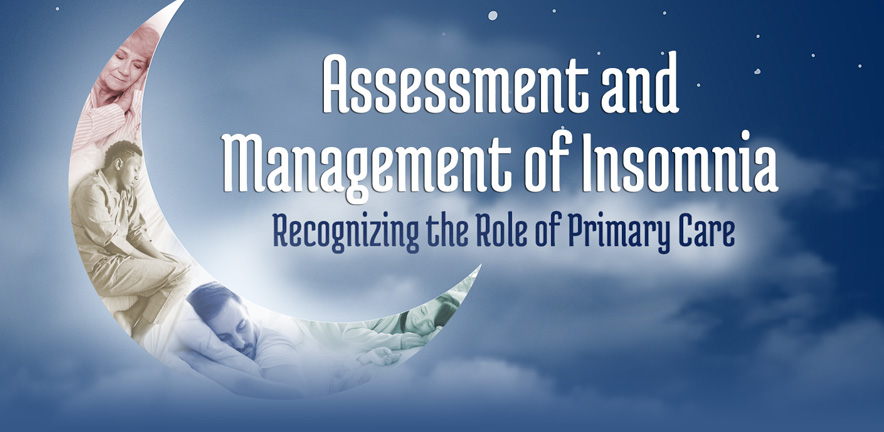 Release Date: Monday, December 9, 2019
Expiration Date: Wednesday, December 9, 2020

Educational Overview
Sleep is increasingly being recognized as an important contributor to health. A growing body of evidence is supporting an association between poor sleep quality and duration with reduced quality of life as well as adverse cardiometabolic effects, including obesity, hypertension, type 2 diabetes, and cardiovascular disease. Appropriate management of sleep disorders can potentially improve management of chronic medical conditions, such as improved glycemic control in patients with type 2 diabetes mellitus. Though cognitive and behavioral therapy are commonly considered first-line treatments, the use of pharmacologic agents is needed in a large proportion of patients with sleep disorders. With the rapid decline in the number of sleep labs and certified sleep physicians over the past few years, diagnosis and management of sleep disorders is increasingly being relied upon by primary care providers (PCPs). However, PCPs may not be aware of the broad impact of poor sleep quality in their patients. This activity addresses these unmet needs in primary care in order to improve patient outcomes.

Target Audience
This continuing medical education activity meets the needs of primary care providers including internists, family physicians, doctors of osteopathy, physician assistants, and nurse practitioners, who can contribute to early detection and assessment of insomnia as well as participate in management of these patients.

Additional Resources and Updates
In December 2019, the US Food and Drug Administration approved lemborexant for the treatment of insomnia in adults. Lemborexant is the second orexin receptor antagonist approved for the treatment of insomnia in adults and is dosed at 5 mg or 10 mg PO immediately before going to bed. The approval was based on two pivotal phase 3 trials, SUNRISE 1 and SUNRISE 2.

SUNRISE 1:
Rosenberg R, Murphy P, Zammit G, et al. Comparison of lemborexant with placebo and zolpidem tartrate extended release for the treatment of older adults with insomnia disorder: a phase 3 randomized trial. JAMA Netw Open. 2019;2(12):e1918254. Available at: https://jamanetwork.com/journals/jamanetworkopen/fullarticle/2758000.

A randomized, double-blind, parallel-group, placebo-controlled, active comparator phase 3 trial comparing the efficacy and safety of lemborexant (5 or 10 mg), zolpidem tartrate ER (6.25 mg) or placebo in 1006 participants ≥55 years of age with insomnia disorder with a 1-month follow-up period.



Learning Objectives
At the conclusion of the educational activity, the learner should be able to:

Describe the impact of insomnia on a patient's quality of life and overall well-being
Identify communication strategies aimed to improve the assessment of patient sleep quality to support earlier detection of potential sleep disorders
Compare and contrast the benefits and risks of newer sleep medications, such as dual orexin receptor antagonists (DORAs), with traditional pharmacotherapeutic agents in the treatment of insomnia


Educational Format
This online presentation builds competence, confidence, and skills in the management insomnia while increasing the understanding of how to utilize patient-provider communication and latest therapeutic approaches to improve patient health outcomes. It is divided into 2 parts:

Impact of Insomnia on Overall Health
Pharmacologic Management of Insomnia


"This enduring activity is based on the live program presented on Friday, November 15, 2019 at the GAFP Annual Scientific Assembly."




Faculty


Paul P. Doghramji, MD, FAAFP

Medical Director
Wellness Center
Ursinus College
Family Physician
Collegeville Family Practice
Collegeville, PA


SUNRISE 2:
Clinicaltrials.gov. Long-term study of lemborexant in insomnia disorder (SUNRISE 2). Available at: https://clinicaltrials.gov/ct2/show/results/NCT02952820.

A 12-month, multicenter, randomized controlled, double-blind, parallel-group phase 3 trial evaluating the efficacy and safety of lemborexant (5 mg or 10 mg) in 949 adults 18 to 88 years old with insomnia disorder. The study included a 6-month placebo-controlled treatment period and a 6-month period of only active treatment.

Accreditation


Physicians
This activity has been planned and implemented in accordance with the accreditation requirements and policies of the Accreditation Council for Continuing Medical Education through the joint providership of Center for Independent Healthcare Education (Center) and Vemco MedEd. Center is accredited by the Accreditation Council for Continuing Medical Education to provide continuing medical education for physicians.

Center designates this Enduring material for a maximum of 1.0 AMA PRA Category 1 Credit(s)™. Physicians should claim only the credit commensurate with the extent of their participation in the activity.



Physician Assistants
AAPA accepts AMA PRA Category 1 Credit™ for the PRA from organizations accredited by ACCME.



Nurse Practitioners
Nurse Practitioners will receive certificate of AMA PRA Category 1 Credit™ as this is an ACCME accredited program and its accreditation is recognized by Nurse Practitioner boards.

For questions regarding the accreditation of this activity, please contact us at info@jointsponsor.com

Method of Participation and Instruction for Credit

Review the entire CME information including target audience, learning objectives, and disclosures.
Review the activity in its entirety.
Please note that to receive credit you must achieve a score of at least 70%.
Certificate of Credit will be emailed to you within 4 weeks.



Disclosure of Conflicts of Interest

In accordance with policies set forth by the Accreditation Council for Continuing Medical Education (ACCME), Center for Independent Healthcare Education requires all faculty members and spouses/significant others with an opportunity to affect the content of a continuing education activity to disclose any relevant financial relationships during the past 12 months with commercial interests. A commercial interest is any entity producing, marketing, reselling or distributing health care goods or services consumed by or used on patients. Relationships with commercial interests and conflicts of interest resulting from those relationships must be revealed to the audience and resolved prior to the activity.

Relevant relationships include roles such as speaker, author, consultant, independent contractor (including research), employee, investor, advisory committee member, board member, review panelist, and investigator. If a potential speaker or author indicates a possible conflict of interest, the conflict will be resolved by choosing another speaker or author for that topical area, or the slides, handouts, and/or monograph will be reviewed and approved by a qualified commercially-disinterested peer.

Dr. Paul Doghramji, MD has the following relevant financial relationships to disclose:
       Advisory Board: Eisai, Inc., Jazz Pharmaceuticals, Harmony
       Shareholder: Pfizer Inc. 
Dr. Doghramji discusses the off-label uses of the following products: Trazodone, doxepin, mirtazapine, paroxetine, quetiapine, olanzapine, and lemborexant.

No (other) speakers, authors, planners or content reviewers have any relevant financial relationships to disclose.

Content review confirmed that the content was developed in a fair, balanced manner free from commercial bias. Disclosure of a relationship is not intended to suggest or condone commercial bias in any presentation, but it is made to provide participants with information that might be of potential importance to their evaluation of a presentation.



Fee
There is no fee to participate in this activity.


Hardware/Software Requirements
Microsoft Internet Explorer, Mozilla Firefox, Apple Safari or Google Chrome with the QuickTime Plug-in
Note: Please disable any "pop-up blocker" features.

Software/Hardware
Adobe® Reader version 7 or above to view PDF files (If you do not have Adobe® Reader, you can download it for free from Adobe.com)
Adobe Flash Player version 10 or above to view multimedia content (If you do
not have Adobe Flash Player, you can download it for free from Adobe.com)

Connection Speed
Cable, DSL, or better of at least 300 kbps

System Check
Please e-mail any questions or concerns to info@vemcomeded.com.

Copyright Statement
Copyright © 2019 Vemco MedEd. All Rights Reserved. Permission for accreditation use granted to Center for Independent Healthcare Education.

Privacy Policy
http://www.vemcomeded.com/privacy.asp



Joint Providership
This activity is jointly provided by Center for Independent Healthcare Education and Vemco MedEd.

Commercial Support

This activity is supported by an educational grant from Eisai, Inc.

By clicking on the activity icon below, I acknowledge that I have read the entire CME information.